Hi, trying to update to the new modpack, but when trying to 'reinstall' to get the updated 8.2 version I am not unable to open the modpack at all because it says it is offline.

and then if you look at the mod pack you can see it says "offline"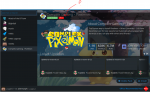 I made sure my launcher was up to date. tried full uninstall of modpack and "reinstall" but I keep getting the offline error. Any clues what is going on?