Technic Launcher | Installation Guide​
Prerequisites:
Minecraft: Java Edition

Java x64

(Choose "Windows Offline 64-Bit" for Windows / "Mac OS X" for MacOS)​
Downloading Technic Launcher
When clicking the link above you'll be met with a download page to Technic Launcher. Select your OS (Operating System – Whether it be Windows, Mac OS or Linux) and then Download the correct version.




After opening the download, you'll be met with this screen. It is RECOMMENDED you do not mess with these settings unless you absolutely know what you're doing. Once met with the screen, just click the "Install" button and let the Installer do the rest.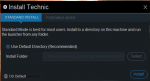 Once installation is complete, you'll be met with a login screen. This is where you'll log in to your Minecraft: Java Edition account.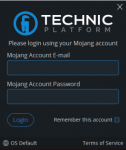 Once logged in, you'll be met with the following screen (if you were able to complete the steps properly).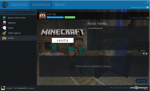 Configuring Technic Launcher
There's a few more things left to do. Pixelmon is a rather resource-heavy mod so you'll have to tweak some settings in Technic Launcher to keep Pixelmon from slowing down and crashing your game.
Towards the top-right of technic launcher you'll see a button called "Launcher Options".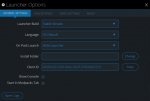 Once you see this, go to the "Java Settings" tab. You should be met with this: We only need to configure "Memory".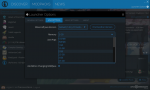 To allocate more Memory, select "Memory" and change the "1 GB" to "2 GB" (this is plenty for Pixelmon).
After allocating, press the "X" in the top-right to close and save settings.
Downloading our Technic Modpack
To install our modpack, select the "Modpack" tab in Technic Launcher. You'll be met with the Modpack Launcher. This is where you'll be to download all your modpacks and launch them. (See the screenshot below).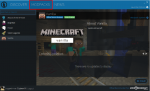 To install our modpack, type the following link in the search bar:
You'll see the following screen show up after pasting in the link. Then you just need to click "Install" bottom-right and then install the Modpack.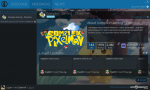 NOTE:
Installation time will vary depending on Internet Connection Speed. Feel free to use your PC whilst Technic Launcher takes care of everything.
After Installation, you'll be met with this screen. Now all you have to do is click "Play"
Troubleshooting | Help and Support
Welcome to the Troubleshooting section. If you're experiencing issues, this section will help you resolve it.
If you're having issues, please go to the "
Troubleshooter
".
The Troubleshooter asks you several questions to help you find out the cause of the issue and how to resolve it. It also will have a log of all known and common errors if you don't find the Troubleshooter helpful to you and if you'd like to diagnose the issue yourself.
​
Last edited by a moderator: