As of our recent changes to the server, we are beginning to force players to use our resource pack as it is a crucial part of our gameplay now. If you're reading this, you are most likely someone who was not able to get it working yourself.
STEP 1
Start by heading to 'Multiplayer' and coming to the following screen.

STEP 2
Once you have clicked on our server, head over to the Edit button at the bottom and the page and click it.

STEP 3
Once on this screen, you can click the 'Server Resource Packs' button until it then says Enabled.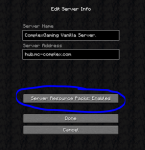 STEP 4
To confirm that you are using the correct setting, make sure it says 'Server Resource Packs: Enabled' like so;